An Arboretum ...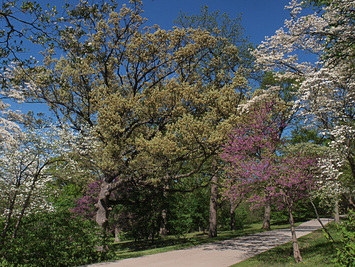 Flowering Trees at the Morton Arboretum
is a specialized botanical garden where the focus is is on trees and shrubs; displays of flowers and other plants might or might not be present.
is located on grounds chosen for the specific purpose of providing a place for trees, to allow their use in study, research, and public display.

treats the plants as living museum specimens; that is, the trees and shrubs are "accessioned" with records kept of their provenance. Ideally, plants are clearly labeled.
is open to the public, whether free or by an admission charge.
is under the direction of a paid staff committed, to some degree at least, to public education and outreach and to programs of conservation and research as well.
---
From among several hundred arboretums in the United States, 33 were chosen for this book, according to these criteria, and a wish to encompass as wide a range of trees as possible by visiting arboretums of different sorts in diverse places.

Some arboretums began as the private collections of wealthy families, later opened to the public and often transferred to public or organizational ownership. Examples include the Morton Arboretum in Lisle, Illinois, (begun by the founder of Morton Salt) and the Morris Arboretum in Philadelphia, now a part of the University of Pennsylvania.

Many others were established on the campuses of colleges and universities to support studies in agriculture, horticulture, and forestry, and include such arboretums as the Newman Arboretum at Cornell University, the Edith J. Carrier Arboretum at James Madison University in Harrisonburg, Virginia, and Peavy Arboretum, a part of the College of Forestry of Oregon State University.

Cities and counties have created wonderful public gardens and some of these are arboretums. Notable examples include the Hoyt Arboretum in Portland, Oregon, and the Arnold Arboretum in Boston.

Yet other arboretums have, from their beginnings, reflected some specialized research focus. The Eddy Arboretum in Placerville, California, began as, and continues to be, a facility devoted to conifers useful for lumber. The United States National Arboretum in Washington, D.C., has come a very long way from its initial focus on the development of improved forms of trees and shrubs for agricultural and horticultural purposes.